Create a Spectacular Flower Chandelier
Create a Spectacular Flower Chandelier using Floral Foam Tiles
What's your first step when a bride asks for a large and dramatic fresh flower design you've never done before?
"Getting over the fear of doing it!" says Alan B. Thompson AIFD of McNamara Florist in Carmel, Indiana.
A bride asked Alan and his team to create a spectacular fresh flower wedding chandelier.
The tiles were attached to the aluminum truss with cable ties.
Once onsite, Alan and his team connected two narrow 11-inch cable ties to get the needed length. They pierced two holes on each side of the tile to secure the tiles to the truss at the top and the bottom for extra security.
Most noteworthy, they doubled a piece of disposable wedding carpet and pinned it to the back of the design to hide the mechanics.
"We lost very few flowers in transit and installation," he added.
What is Alan's best advice for this design?
"Work closely with your AV (audio-visual) person to talk about the weight of the structure," Alan advises. "We didn't weigh the panels but we're guessing they were possibly five to eight pounds per tile."
Also weight can make construction more difficult if you have to work overhead to secure the tiles in place.
Fortunately for Alan, the truss was motorized and was lowered for the team to attach the foam tiles from the floor. Once the design was in place, they lifted the truss back up and secured it at the ceiling. The AV company also provided and installed a chandelier in the center of the design.
The bride's response?
"I got to see the ecstatic response of the bride's mom, but I had to get back to the store to assist with Mother's Day so I was disappointed that I wasn't going to see bride's first look," shares Alan. "Then, the venue manager FaceTimed me and I did get to see the bride's "OMG!" response. She loved it!"
"Thank you, floral foam wall tiles! You saved us a ton of time on a hectic day."
The sky's the limit
The sky's the limit when it comes to selling suspended floral chandeliers.
"As a florist, it's great fun to design something a little different than the typical centerpieces on the table," says event designer Katherine Gonzalez AIFD of Bastille Flowers & Events. "Many brides are looking for a wild, whimsical and organic feel to their wedding flowers. A lush draping chandelier or canopy has become a natural go-to for creating that overgrown secret-garden effect."
Floral chandeliers vary with budgets
Floral chandelier prices can vary greatly. Also they can be designed using wreath forms in a series of sizes or large-scale metal forms or trusses.
The chandeliers can be dramatically arranged like these designs created by Chris Norwood AIFD, PFCI of Tipton Hurst in Little Rock, Arkansas and Emily Pinon of Bastille Flowers & Events in New York and Alan.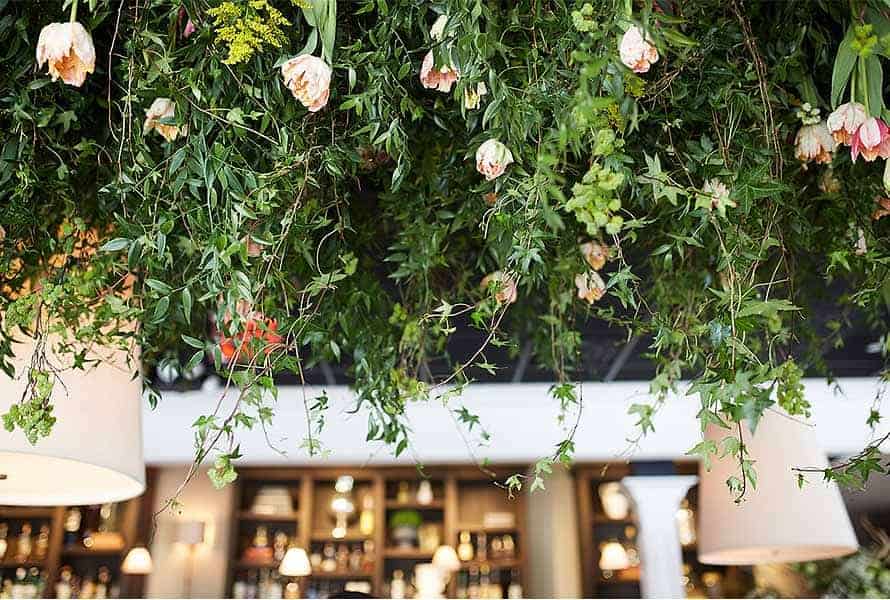 Floral chandeliers can also be arranged on a smaller scale featuring more foliages and fewer flowers, like these photographed designs. Furthermore they can be elevated upon wreaths, branches, wood, wire or metal forms, even foliage or flower laden hula-hoops.