Wedding Warmth
Explosive colours like orange! Bring light and as a result radiance to any autumn or winter bouquet.
These complementary bouquets feature Roses. Emerging from a soft bed of Hydrangea. Also Scabiosa and Eucalyptus leaves. While OASIS® Aluminium Wire has been folded and added to both bouquets for decoration. In contrast trailing Apple-green has been used for the larger bridal bouquet and Lavender for the bridesmaid's.
Flowers & Foliage
Eucalyptus leaves.
Hydrangea.
Limonium.
Roses.
Scabiosa.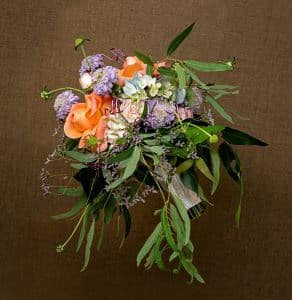 Step One
Firstly mould Aluminium Wire. To create a "Versace" pattern (square-edge folding). In Apple-green and lavender. Glue Hypericum berries to the ends of the lime-green wire.
Step Two
Insert stems of cascading Eucalyptus foliage around the Oasis Bridal Bouquet Ladynette II. Similarly add tufts of Hydrangea, Scabiosa. Likewise with open Roses.
Step Three
Similarly complement with sprigs of Limonium. Also add wire to both bouquets. Almost done. Gather a handful of stems and bind with OASIS® Natural Jute.
Step Four
Another step and it is done. So now to wrap. Place OASIS® Bouquet Wrap around the bouquet holders of both designs. For the reason that it will hide the stems. As a result replicating a hand tied bouquet. Finally Spray both bouquets with FloraLife® Finishing Touch. So it will keep them fresh. Read below for even more Floral Inspiration.