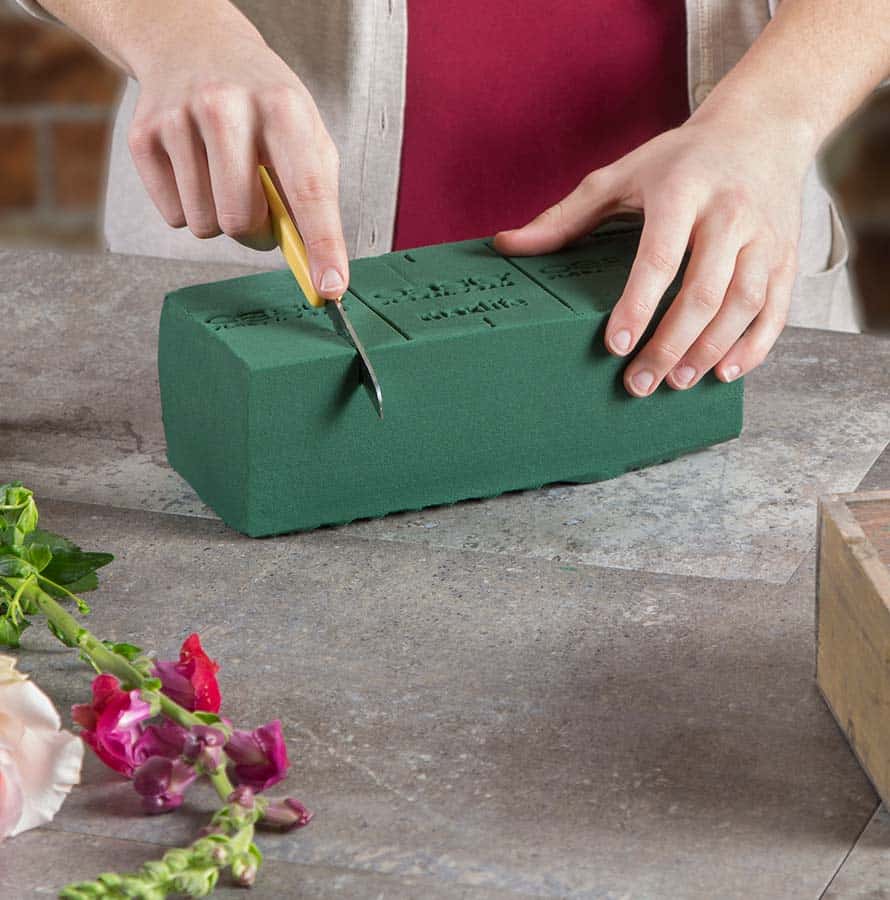 Using Floral Foam – The How & Why
So what is the most important thing to know about using floral foam? It was invented in 1954? That choosing the right density for stems makes designing easier and more secure? That nearly 400 different Smithers-Oasis foam products are available? That today's OASIS foam biodegrades 100 percent (see more below)? Yes, these are important. As are the tips on choosing, prepping and using floral foam efficiently you'll find below.
But perhaps the No. 1 most important thing to know about using floral foam is to …
Let it sink in
Sound like a T-shirt slogan? Perhaps.
Here's what's certain: when wetting floral foam, always place the block or brick on top of the water and …
Let it sink in!
Why? Because floral foam has air-filled cells. So as water moves into the cells, air is pushed out and the foam sinks and also saturates.
Press the foam into the water and you will create an air pocket at the centre. As a result any flower stems reaching this dry space will not have a water source.
So please don't push it down. You'll find more on hydrating correctly later in this article. But first …
Why use floral foam?
Because it stabilises flowers. Floral foam also holds water (adding flower food is recommended), as a result increasing fresh flower longevity. Foam's stability means you can create and deliver the design you intend.
Floral foam can be cut into any shape you want. Also you can purchase it in the shape and configuration for your application including cones, spheres, wreaths, caged, bouquet holders, tiles, garlands and so many more that save time and offer placement options. So with foam you get design stability and flexibility, also a water source and efficiency.
Which foam should you use?
Classic Green Foam
This water absorbing foam can be used as the base of floral arrangements. OASIS® Floral Foam allows you to create any fabulous creation you can imagine. So it is the perfect foundation and helps keep your flowers fresher for longer. In addition, the balanced Ph levels guarantee the longevity of all your fresh flower arrangements.
Noir: OASIS® Noir Ideal Floral Foam Maxlife Brick is gray when dry and turns black when wet. Black Foam visually recedes in an arrangement, which can allow more space between stems. For large designs especially, you can increase perceived value with fewer flowers. Unlike the old Rainbow foam, Midnight saturates with water as quickly as classic green foam.
Dry Floral Foam for permanent botanicals or dried flower arrangements. Our Dry Brick Foam is dense and firm providing great holding power. As a result the brick is easy to cut, not too hard in structure yet does not crumble therefore giving off minimum dust. While keeping stems securely in place.
Also available OASIS® Bio Floral Foam Maxlife. It has the same composition as traditional OASIS® Floral Foam. With one addition – a new ingredient that can actively attract the microbes present in landfill conditions.
Not only does OASIS® Bio Floral Foam give you the exceptional performance you expect, Furthermore it gives you peace of mind that you can create gorgeous designs that do as much to protect nature as they do to capture its beauty.
Try these quick tips
To produce a more rounded foam form, angle the edges with your floral knife. We tend to stop inserting when a stem connects securely with the foam. A convex form more easily results in a rounded flower surface.
If you're using large stemmed flowers or maybe designing a large arrangement, add more strength to your design by placing florist netting over the floral foam. Also add a grid of waterproof tape to hold the netting and foam securely in the container.
Hydrating the foam
Use the float-soak method to hydrate floral foam with water that includes flower food. Lay the floral foam atop a basin of water and let it sink into the water by its own weight. Click the image below and watch as Neville Mackay shows you How to soak Floral Foam the right way. He also shares some tips for working with bigger pieces….
Soaked floral foam should be used within 1 to 2 weeks. Once wet floral foam has dried, it cannot be re-wet.
Floral Foam can last up to 12 months when stored in a dry dark place. It can turn brown rather quickly if left in sunlight or damp conditions.
Cutting stems for foam
Cutting flowers with a sharp knife opens the interior waterways. Clippers tend to press them together.
Cut stems at a sharp slant slice through foam like an arrow. This creates a secure fit for the stem in the foam.
Carefully insert flowers about 1-inch to 1.5 inches into wet foam to securely place a vertical stem. Insert a horizontal stem 1.5-inch to 2-inches.
Be sure the inserted flower stem fully connects inside the foam so the flower has access to water.
If you need to remove a stem, simply clip it off at the edge of the foam. This preserves the integrity of the foam rather than leaving a hole.