2010 Designz® Cup National Winner
2010 Designz® Cup
Theme: Wedding Wizardry in a Country of your Choice
National Winner – Michael Cordeiro
Congratulations to Michael Cordeiro from Ultimo College at Sydney Institute of TAFE for achieving the highest total marks across all states in 2010.
​
He captured the legend of Medusa in his interpretation of a Greek wedding. Mythology says she was exceptionally beautiful before being turned into an ugly gorgon with snake hair by the jealous Goddess Athena. Each strand of serpent-like hair had to be stiff enough to stay in position yet also flexible enough to mimic the writhing of snakes.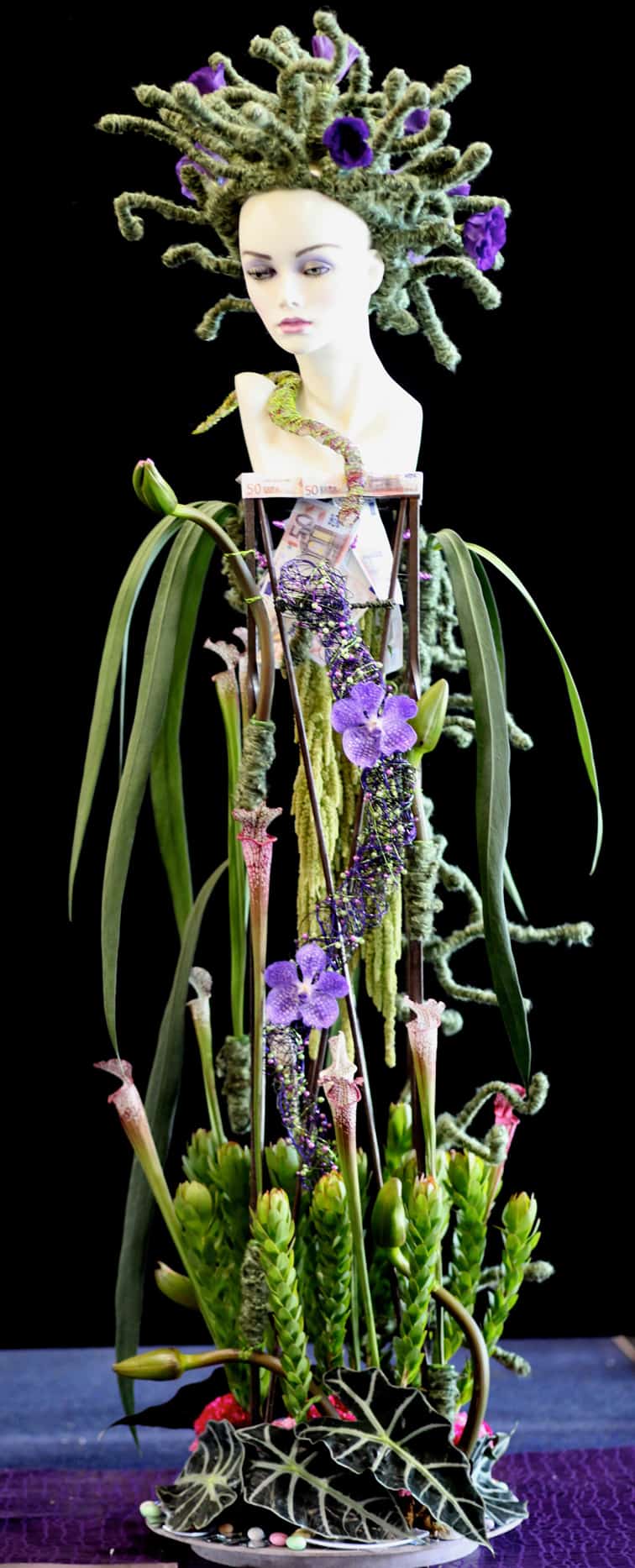 Michael did a great deal of binding and wiring to achieve this result. He then used hot glue to shape a serpent covered with decorative wire at diagonals to adorn Medusa's shoulder. More wiring formed the glittering frame of the trailing bouquet below. This dazzling snake connected the traditional gift of money to serpent-like foliage while broken white plates and sugar-coated almonds extended the Greek theme.
"It gives me great pleasure and satisfaction to touch people's lives by providing a high quality service where flowers are made all the more special by the way they've been presented or arranged. I am grateful for the inspiration and motivation that other professionals in the industry provide," said Michael Cordeiro.
If you enjoyed 2010 Designz® Cup Take a look at the other winners right here from 2008 to 2018. Enjoy looking at some stunning and also inspirational Floral Designs, created by some very talented Australian Florists…
Ideas
Furthermore our Ideas section has a variety of Design Inspiration for you. Including Video Tutorials, Floral recipes also Floral Designs created just for us by Richard Go #thefloralmcgyver and the Fresh Designz magazine.
A magazine that demonstrates the versatility of OASIS® Floral Products in many stunning designs. Click on any of the issues to find detailed how-to-make instructions from talented local and international designers. Read Now
Sign up to our newsletter
When You Sign Up you will not only receive our email newsletters
packed full of the latest floral and craft products, news, offers and craft guides,
but you'll also receive 15% off your next order with OASIS® Floral.