Pew Perfection
Pew Perfection Lift the spirits of every guest with a colourful chair design. The LOMEY® Pew Holder is designed to hang from the end of a pew but why limit it to that location. It could work equally well at a reception or this simple yet stylish design could ever become a bouquet! There are endless possibilities so just follow Michael's instructions to test them out.
Step 1.
Cover the handle of the LOMEY® Pew Holder with green ribbon and soak the Floral Foam. Insert three Billabong Reeds into the base of the holder and secure with OASIS® Bindwire.
Step 2.
Add Nandina foliage into the front of the base then place Grevillea foliage on the edges. Lightly place short pieces of Goanna Claw into the centre.
Step 3.
Evenly distribute stems of Craspedia and Berzelia throughout the foliage for balance and harmony.
Flowers & Foliage
Berzelia
Billabong Reed
Craspedia globosa "Billy Buttons"
Goanna Claw
Grevillea Foliage
Nandina Foliage
Sundries
Green Ribbon
LOMEY® Pew Holder
OASIS® Bindwire – Green
This design is from Michael Cordeiro who is a well known to our Fresh Designz readers. He is a past winner of the national Designz® Cup award. Currently Michael freelances around Sydney.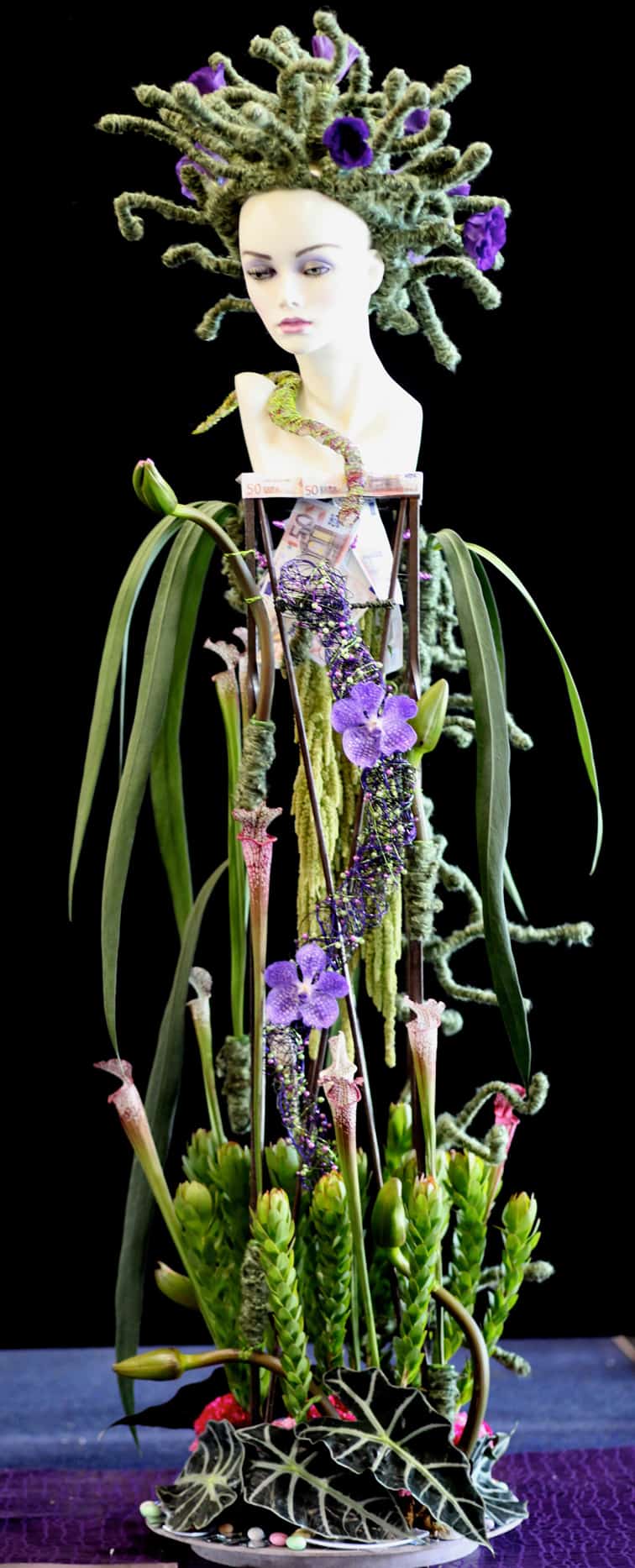 2010 Designz® Cup
Theme: Wedding Wizardry in a Country of your Choice
National Winner – Michael Cordeiro
He captured the legend of Medusa in his interpretation of a Greek wedding. Mythology says she was exceptionally beautiful before being turned into an ugly gorgon with snake hair by the jealous Goddess Athena. Each strand of serpent-like hair had to be stiff enough to stay in position yet also flexible enough to mimic the writhing of snakes. Michael did a great deal of binding and wiring to achieve this result. He then used hot glue to shape a serpent covered with decorative wire at diagonals to adorn Medusa's shoulder. More wiring formed the glittering frame of the trailing bouquet below. This dazzling snake connected the traditional gift of money to serpent-like foliage while broken white plates and sugar-coated almonds extended the Greek theme. Continue reading…