Palm Leaf Green Vase
$13.65
Stunning glass vase in the shape of a palm leaf.
18 in stock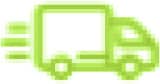 Free shipping on orders above $99
Want it Thursday, December 19? Order Now.
Description
Palm Leaf Green Vase – 21cm
Product Features
This large vase has a gorgeous green colour and is also designed in the shape of a palm leaf.
Typical Uses
A beautiful addition to your home, display on its own or with flowers.
FloraLife Crystal Clear.
You will Enjoy cut flowers for longer with our Floralife® Flower Food.
FloraLife Crystal Clear Box contains 200 packets. Each packet makes 1/2 a litre of solution
As a result ensuring not only fresh but also long-lasting flowers.
Floralife® Finishing Touch spray.
First of all Floralife® Finishing Touch spray is a scientifically engineered solution. Used to refresh, hydrate, and above all protect fresh flowers and foliage also blooming potted plants. First of all it prevents premature flower petal drop. As a result preventing dehydration, browning and wilting. Gain even more quality and freshness from your cut flower bouquets also wedding work, floral designs, and evergreens with a simple final step.
33 Quick Tips to Keep Cut Flowers Fresh
What is the No. 1 consumer objection to buying flowers? Longevity.
Flowers begin to wilt and die the moment a bloom is cut. This is called senescence and means a flower's cells no longer divide and grow.
Before flowers end up in a fabulous wedding bouquet or maybe event centrepiece. They travel from the farm to the supplier also to you, the floral designer. As with people, travel and temperature variations can take a toll on flowers.
Unless you take steps to preserve the vitality of a cut flower once it is in your care, it will fade and wilt. Possibly before you or your customer wants…. Learn More