Plastic Wrap Green Wire 100m
$3.50
42 in stock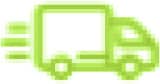 Free shipping on orders above $99
Want it Thursday, December 19? Order Now.
Description
Plastic Wrap Green Wire 100m
A fine green coated wire great value 100m roll approx 24g suitable for all craft and floral work – a great accessory for any tool kit.
Features and Benefits
Great soft wire for any project – wiring arrangements or part of any construction work
Typical Uses
Plastic Wrap Green Wire 100m
Enables you to add design features, style and impact to all your floral arrangements and gifts. Tying, binding and fixing. Craft projects.
Create Magical Wands!
Magical wands are back in fashion and making enchanting wands has never been simpler with OASIS® Floral Products.  You don't have to be a wizard to follow our step-by-step guide to making this perfect wand creation.
Step One- Shape six leaf outlines with Aluminum Wire at the top of a long length of wire that will form the handle. Bend the wire leaves back into a horizontal position. Place the wire leaves together to make a posy shape. Continue Reading…
OASIS® Floral stock a wide range of supplies for professional florists & hobbyists.
Including a comprehensive range of wire products that offer everything a designer could need. Choose from binding, reel, cut lengths, shapes, consumer packed and a huge range of decorative wires. Furthermore we have a wide range of basic design accessories including tools, tapes and adhesives to make your everyday tasks easier. OASIS® Floral Products Tools are inexpensive and good value for money.
When You Sign Up you will not only receive our email newsletters
packed full of the latest floral and craft products, news, offers and craft guides,
but you'll also receive 15% off your next order with OASIS® Home & Hobby.